Our Campfire campaign is over but we're still raising funds to complete our documentary.
To help, visit documentaryaustralia.com.au/project/paper-city/​
or email us at admin(at)papercitytokyo.com.
Follow us on Twitter/Facebook/Instagram:
@papercitytokyo
"The line between living and dying was paper thin."
—Michiko Kiyooka, firebombing survivor
A forgotten tragedy
Just after midnight on March 10, 1945, the U.S. carried out a massive incendiary air attack on eastern Tokyo, unleashing a firestorm that devastated this densely urban area of wooden and paper houses. By sunrise, more than 100,000 people had been killed, a million people made homeless, and a quarter of the city wiped off the map. Devastation.​ ​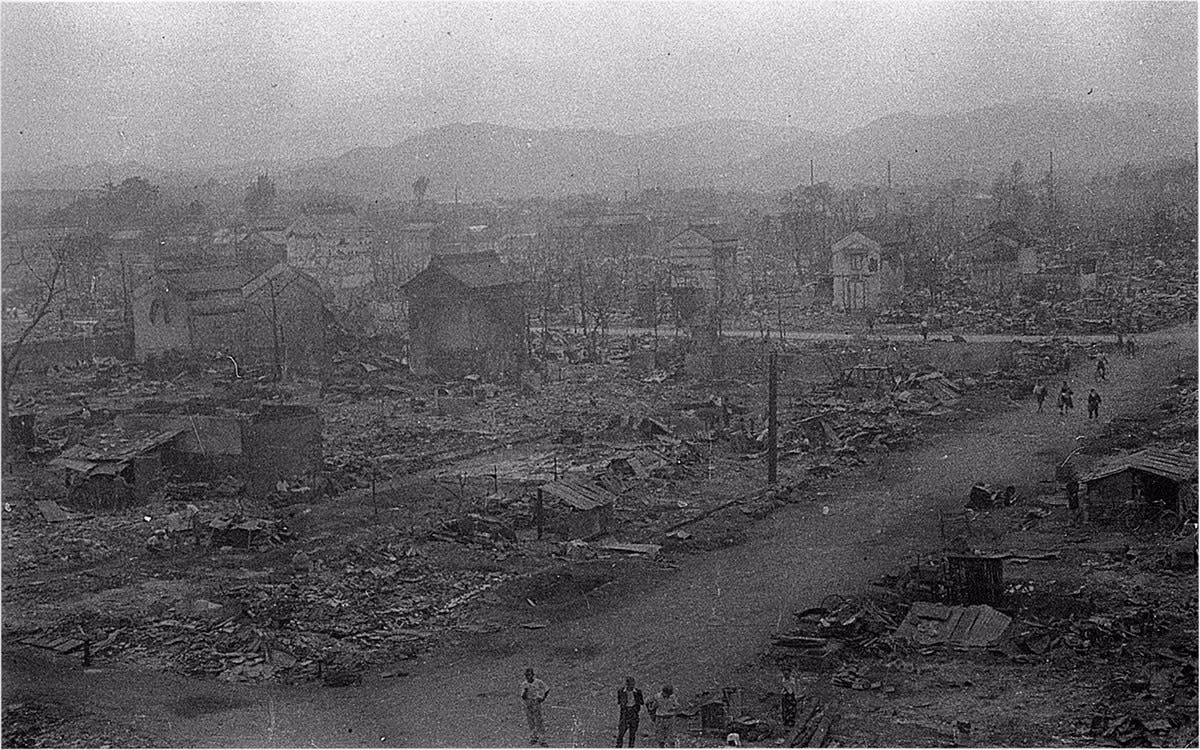 By Ishikawa Koyo, August 4, 1945
But while the memory of this tragedy is forever seared in the minds of the survivors, for many people in Japan and abroad, the firebombing is ancient historyーforgotten. Paper city is the story of three survivors desperate to leave behind a record of this forgotten tragedyーbefore the last of them passes away.
Tokyo and I — Director ADRIAN FRANCIS
Tokyo is an enormous city, always facing forward, too big to ever fully know. Although I'm originally from Australia, it's been my home for 15 years.
Of course in WWII, Japan and Australia fought on different sides. So growing up, although I was taught a lot about Allied suffering, I learned very little about how ordinary Japanese experienced the war.​ ​
This changed when I saw Errol Morris' documentary The Fog of War—and first learned of the firebombing of Tokyo. The facts were devastating. 100,000 people—overwhelmingly civilians—killed in one night; the most destructive air raid of any war in history. And yet in the city itself, I'd never really seen any obvious traces of what happened; when I asked Japanese friends, many knew only the vaguest details.​ ​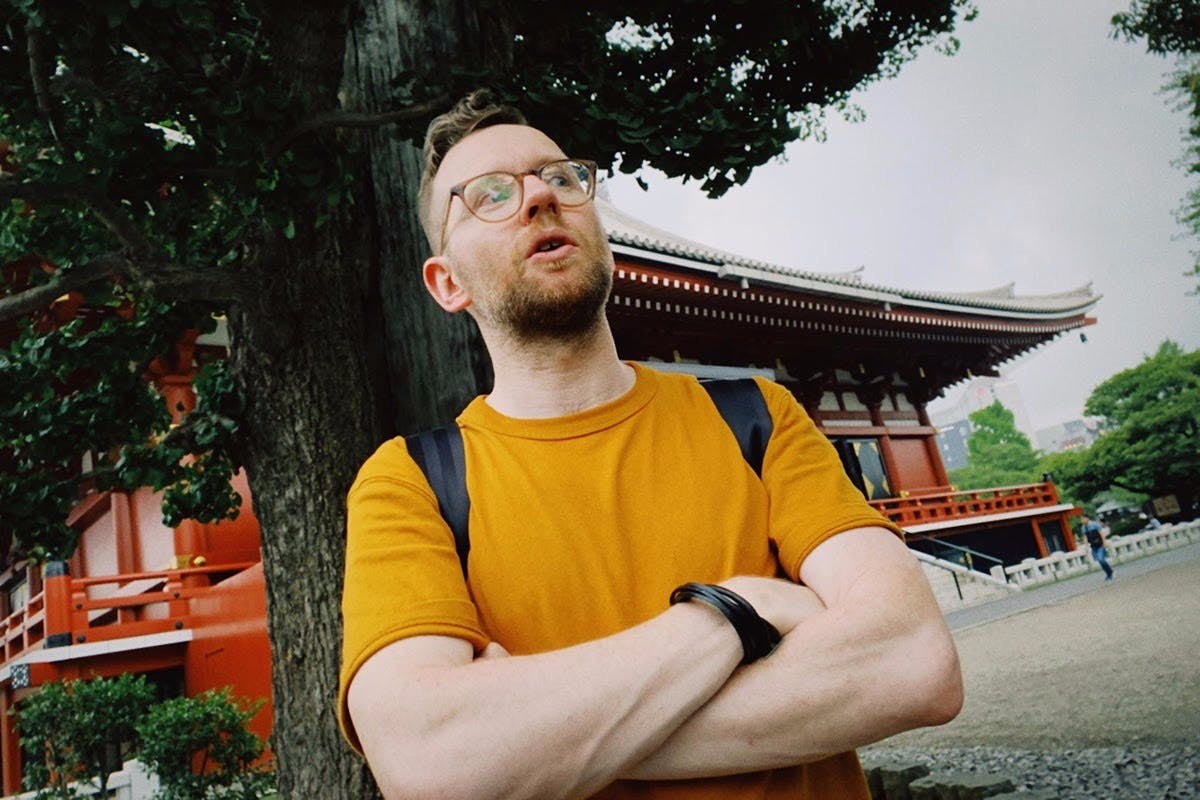 Memory & Forgetting
I had traveled to Germany and seen the holocaust memorials, and met young people there who actively remember the past. I had visited the Peace Memorial Museum in Hiroshima, and saw how that city's identity has been shaped by the memory of the atomic bomb. In New York too, there is a memorial to the September 11 attacks. People come from all over the world to visit these sites—to remember, learn, and pay their respects.​ ​But not so in Tokyo. I wanted to understand why things were different here.​ ​
​
Were the survivors reluctant to talk? Would they rather forget?
​
I decided to make contact with survivors. At first, I wondered if they might be wary of talking to a non-Japanese filmmaker—but nothing could be further from the truth. They were happy that someone wanted to listen. Three survivors in particular were kind enough to open their homes, lives and memories to me.​ ​
The Survivors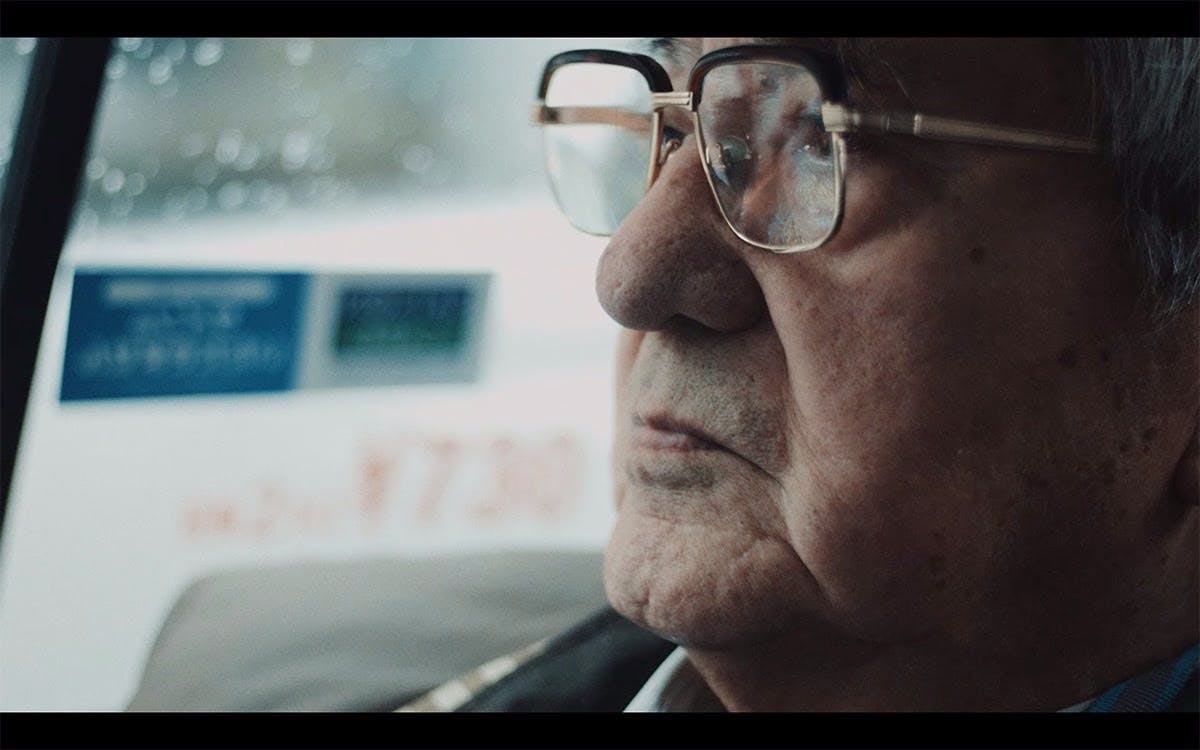 "Even if we never found the bodies,
we need the names to show these people lived here."
 Hiroshi Hoshino
Hiroshi Hoshino grew up in Oshiage—in the shadow of where Tokyo SkyTree now stands. The morning after the firebombing, saw the canals nearby choked with corpses. In the aftermath, the military police ordered him and his junior high classmates to fish these bodies out of the water. But unlike the generous support given to soldiers and their families after the war, Mr. Hoshino is indignant that civilians have all but been forgotten.​ ​After retiring, he devoted himself to the civilian cause.​ When I see him now, I still imagine that 14-year-old boy, forced to drag bodies through his broken city.​
​
​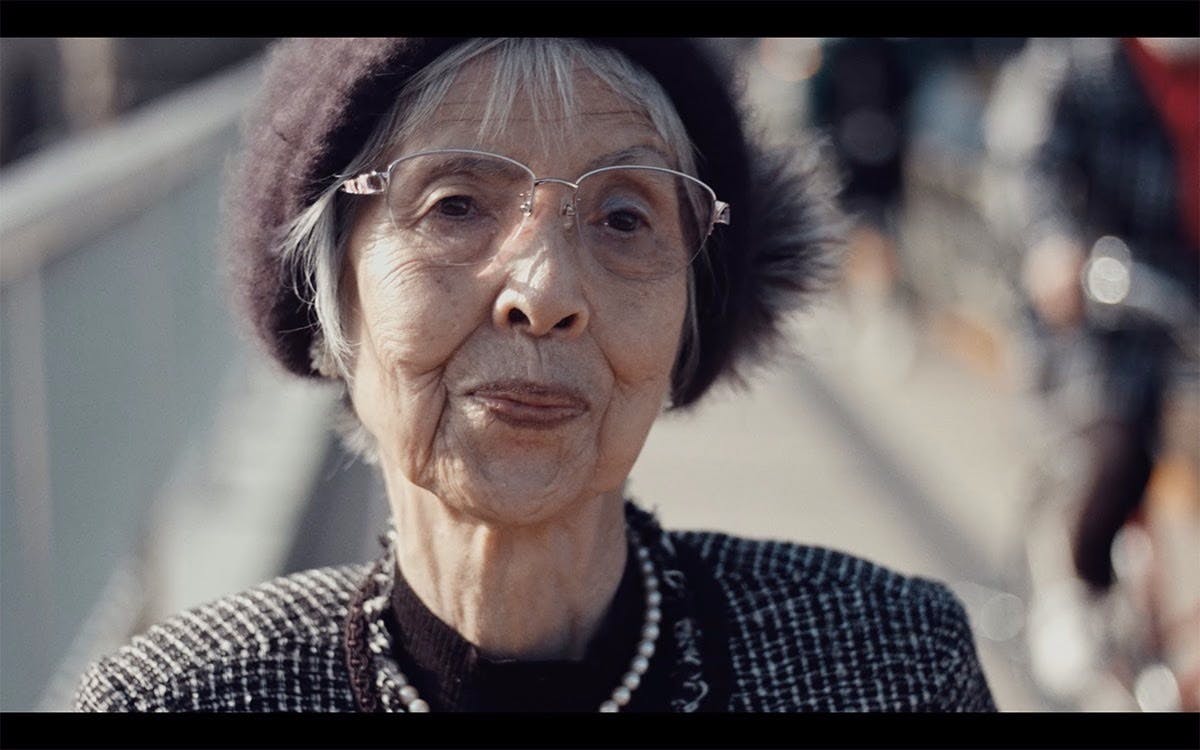 "We want a memorial like in Okinawa,
with the names of each person carved."

Michiko Kiyooka
Michiko Kiyooka grew up just behind Sensoji Temple—now one of the most popular tourist attractions in Tokyo. With her neighbourhood in flames, Mrs. Kiyooka's family took refuge in the Sumida River, beneath Kototoi Bridge. There, the 21-year-old Kiyooka clung to a wooden pole in the icy water until dawn. Days later, she found her sister and father buried in a shallow grave; their bodies were intact and identifiable—unlike most of the dead, who were burned beyond recognition.​ ​She has always seen it as her purpose in life to make sure future generations know about the horrors of the firebombing.
​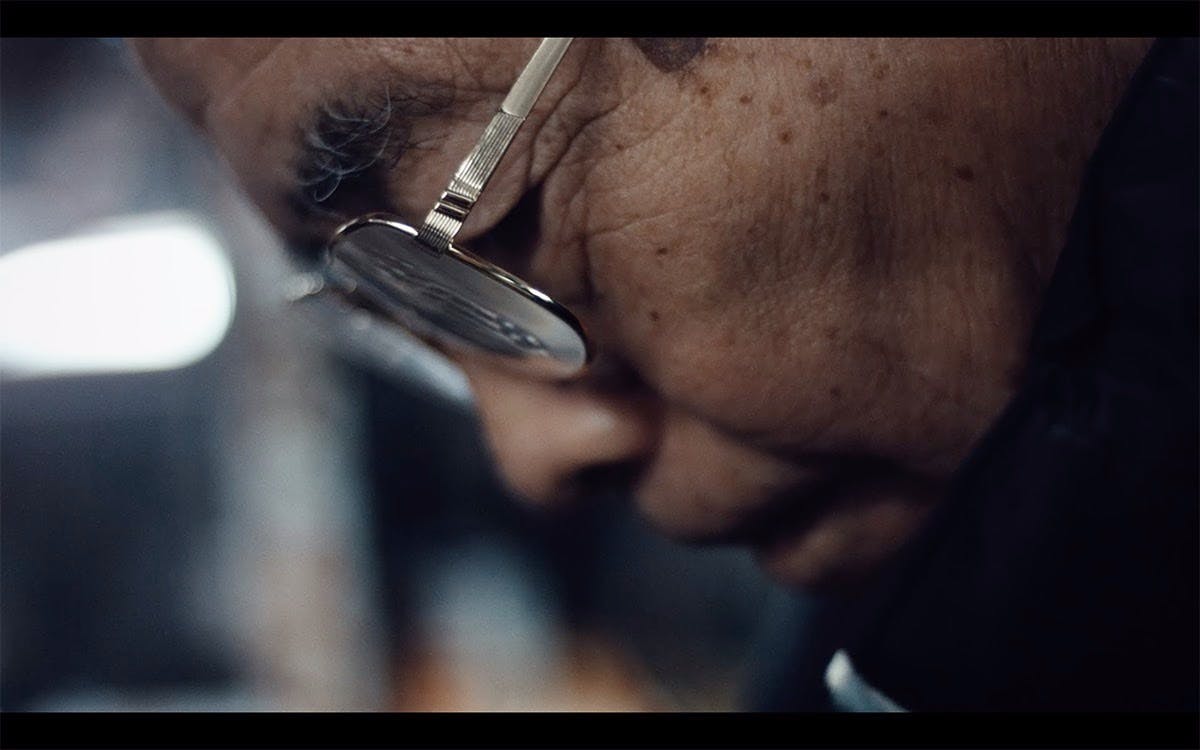 ​"It seems like Japan is expanding its military,
but we must never go to war again."

Minoru Tsukiyama
On March 10, 1945, Minoru Tsukiyama was sixteen years old. With no military targets, he had always thought his neighbourhood would be safe, but that night he witnessed its utter destruction—80% of its inhabitants were killed, including his three siblings.​ ​
Determined to honour their memory, the surviving members of Mr. Tsukiyama's community recorded the names of each of their deceased neighbours on a paper scroll, which they have preserved for decades. But with few survivors left, Mr. Tsukiyama worries if anyone will continue this local tradition.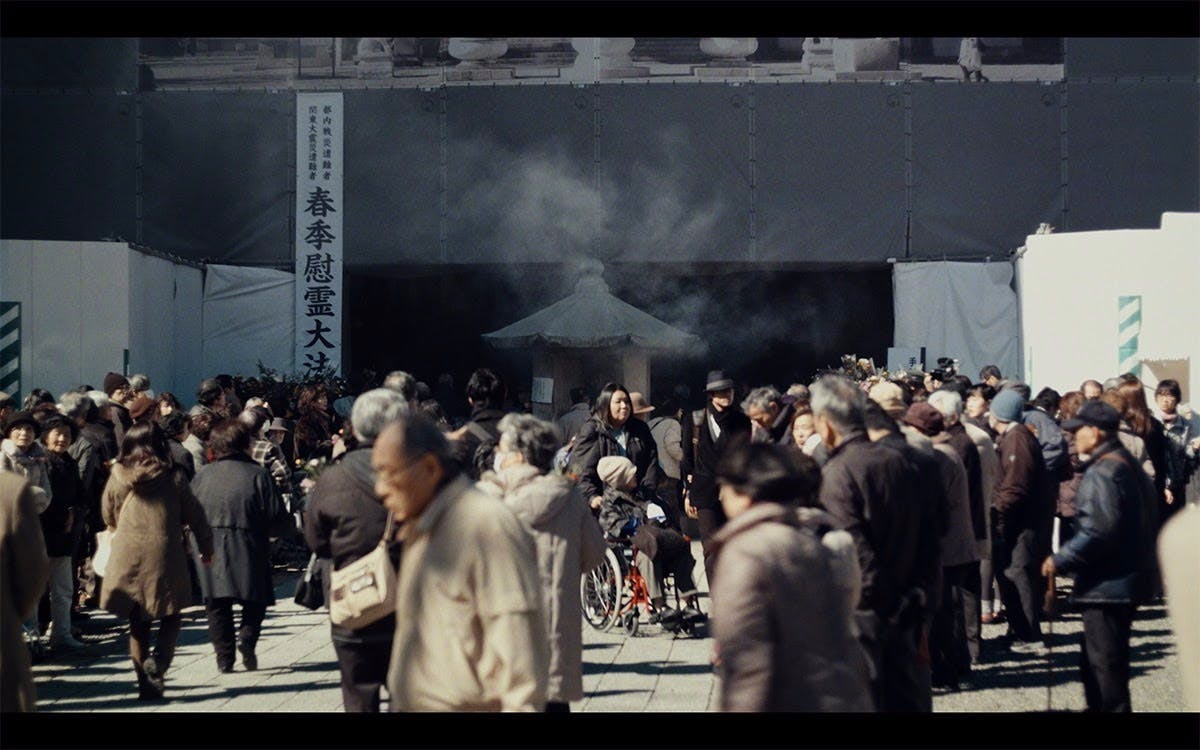 After the War
It's hard not to be moved by the strength and resilience of these survivors; after Tokyo was reduced to ash, each of them rebuilt their lives from zero. But now in old age, their greatest fear is that with their passing, the firebombing will also be forgotten.
For decades they have campaigned for the public recognition of the firebombing—for a proper counting of the names of the dead, a public memorial and museum, and for some token compensation for the loss of their homes, loved ones and livelihoods. But the Japanese and Tokyo Governments have ignored their appeals, and after 75 years, they find themselves cast aside.
​ ​In contrast, former soldiers, military employees and their families have received more than 50 trillion yen in financial support.​ ​
Citizens work to preserve the memory
In the absence of government action, volunteer and citizens organizations, such as Kuushuu Sensai wo Kiroku Suru Kai and the Tokyo Daikuushuu Sensai Shiryo Centre have committed themselves to researching and recording the legacy of the firebombing. But many of the people involved are elderly survivors themselves, working with limited resources. For them, time is running out.​ ​
What will happen after the last of them passes away? Will the firebombing also pass completely from our collective memory?​ ​
Since the very beginning of the project, I've been inspired by a quote from one of my favourite books, The Book of Laughter & Forgetting, by Czech writer Milan Kundera.
The last living generation of WW2
What I've learned from listening to these survivors is that although governments make war, it is civilians who endure it—whether on the side of the victim or the aggressor.​ ​
Their perspective on what happened is unique. It can't be captured in history books or lectures. It gives us insight, and allows us to learn from the past. But when we think about war as country versus country, their experience is too often sidelined. In Paper City, we are going to tell the story of the firebombing from the point of view of people who were on the ground that night.​ ​
For foreign viewers in particular, it will be the first time to hear from the survivors themselves.​ ​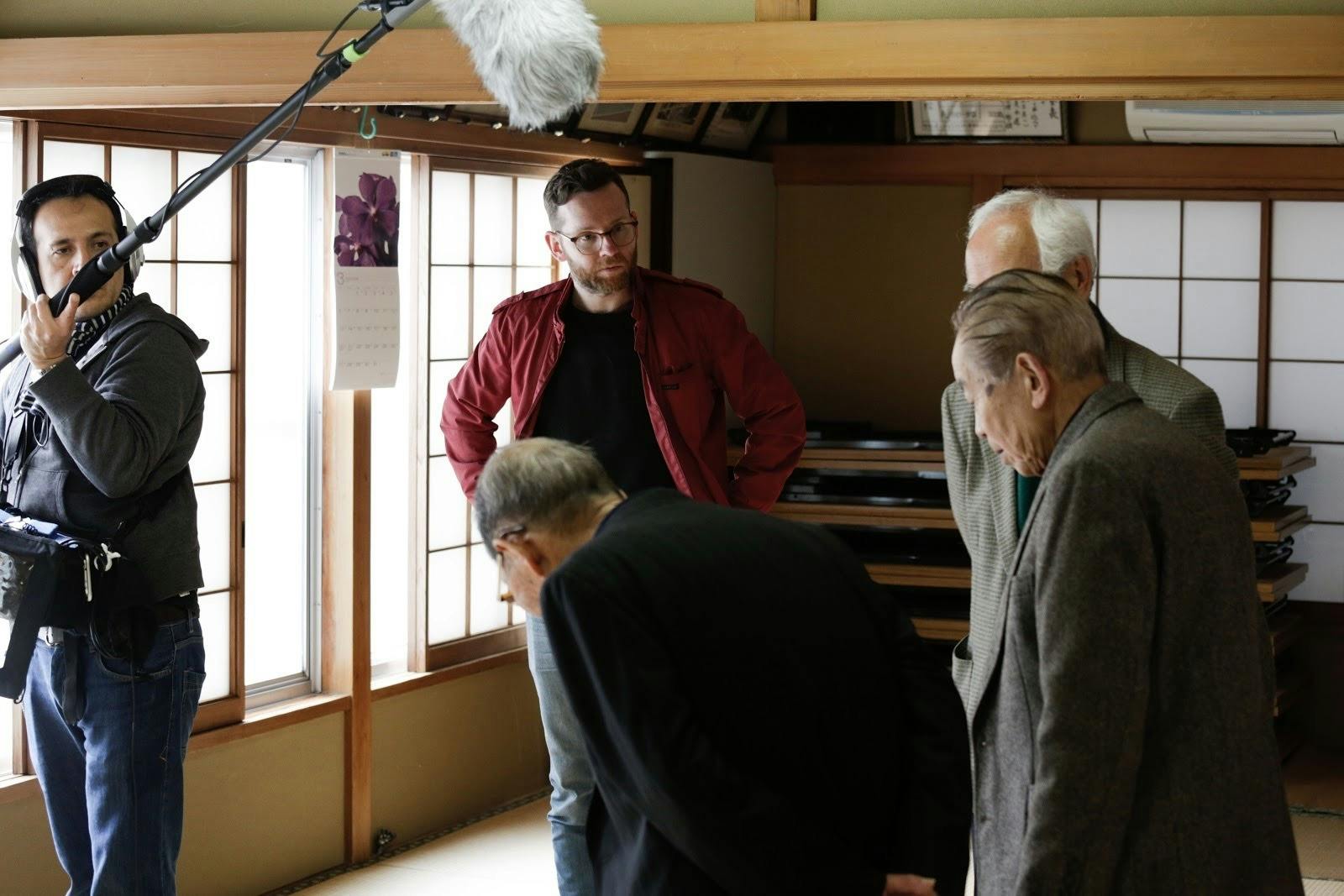 Passing on stories through documentary film
As an international production, we plan to bring this story to audiences all over the world—first, through international film festivals, then TV and online platforms, and finally through screenings and discussions at schools, museums and universities. In doing so, we will carry the survivors' stories far beyond their current sphere of influence.​ ​
Many of the psychological wounds that were opened in WW2 continue to fester—causing pain to individuals and families, and mistrust between nations. Our hope is that Paper City will encourage dialogue about the past, between younger and older generations, and between people from different nations. Above all, we want to promote peace, empathy and understanding. The psychological scars of war linger long after the physical ones have healed—something we should remember when civilians continue to be targeted in contemporary conflicts.​ ​
Support message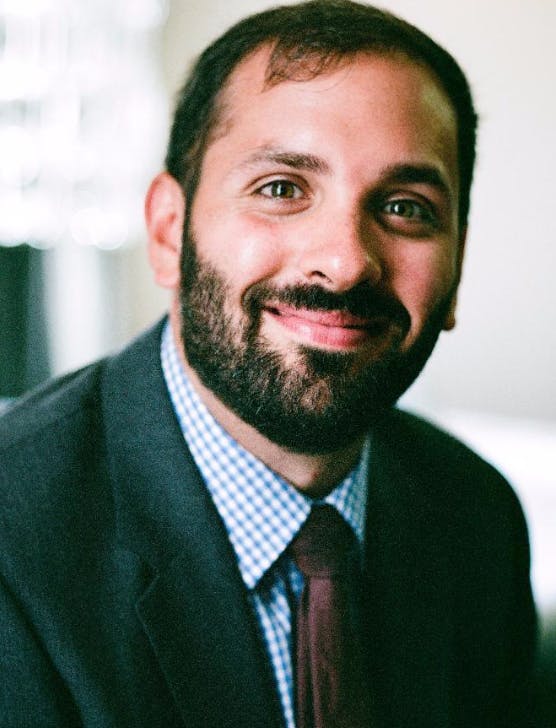 David Fedman
Associate Professor, UC Irvine University / Co-curator, JapanAirRaids.org
"Paper City is a long overdue film of enormous significance. More than simply shedding light on an oft-forgotten episode of World War II, it raises important questions about the wholesale targeting of cities and civilians in war. At a time when memories of WWII are fading from public memory, this project is more urgent than ever."
Use of funds
The target amount will be used for the following:​ ​
Editing                                      1,500,000 yen    (Approx USD 14, 000)
Calligraphy shoot                       500,000 yen    (Approx USD 4, 500)
Translation                                100,000 yen    (Approx USD 9, 000)
English subtitles                        450,000 yen    (Approx USD 4, 000)
Archive research & material       550,000 yen    (Approx USD 5, 000)
Sound design                            800,000 yen    (Approx USD 7, 000)
Art/graphics                             80,000 yen    (Approx USD 700)
​
If we surpass this initial goal we could advance the project further. If we reach 5.5 million yen, we could pay for a composer, make a digital master and colour grade the film.


Schedule
Calligraphy shoot                              April 2020
Editing                                              April—May 2020
Translation / English Subtitles            May 2020
Sound design                                    May 2020
Colour Grade / Sound mix                 May 2020
Film completion                                 June 2020
​
This project will be implemented in an All-in manner. Even if the target amount is not met, we will execute the plan and provide a return.


Rewards
ご支援額に応じて、以下のリターンを準備しております。
日本国外の支援者の皆さまは英語ページにて[Recommended for backers outside of Japan]と記されているものを選択していただければ日本の住所を必要としませんのでそちらをご検討ください。3000円(約30ドル)もしくは10,000円(約100ドル)
● Thank you email from the director
●Paper City postcard
3 x character images from documentary with survivors' words
● DVD (without packaging)
● DVD (with packaging)
● Movie poster
● Receive a Special Thanks in documentary end credits
● Exclusive private online link to the film
* Link will be available for a limited time   
*Japanese language with English subtitles
*Timing:September 2020
● Exclusive Private Preview Screening with Q&A
Introduction and Q&A with director, Adrian Francis
* Bilingual (Japanese + English)
 September 2020(date to be confirmed), Asakusa, Tokyo (transportation costs not provided)
● Firebombing survivor testimony talk & Air Raid museum experience
90 min experience at Center of Tokyo Air Raids & War Damage・Includes survivor  testimony & museum tour with director
* Bilingual (Japanese + English)
September 2020 (date to be confirmed) Koto-ku, Tokyo (transportation costs not provided)
●  Paper City Locations Walking Tour (Limited to 40 people)
90-minute tour with director Adrian Francis
* Bilingual (Japanese + English)
September 2020, location: Asakusa, Tokyo (transportation costs not provided)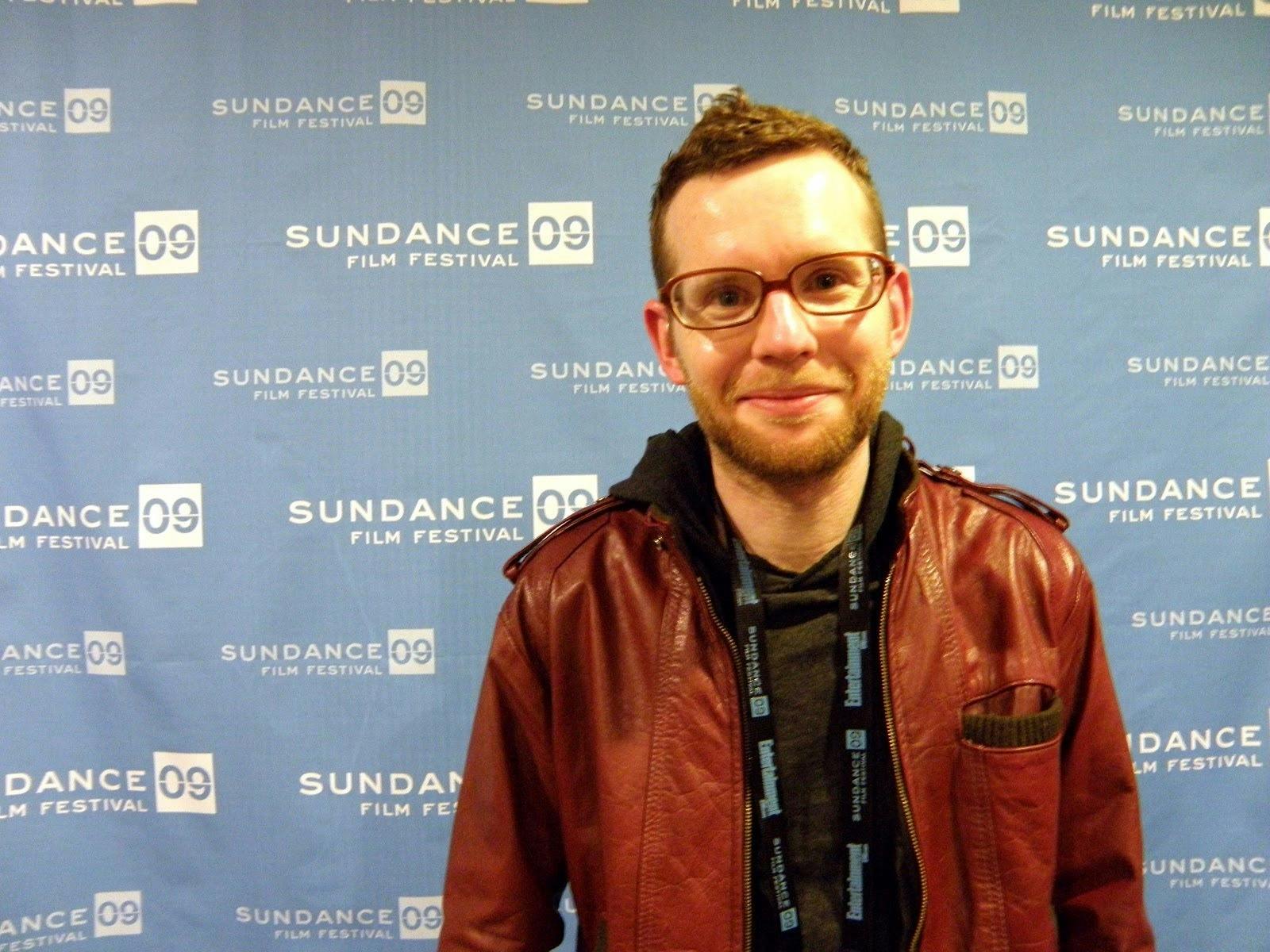 Message from the Director
Since I first began research on Paper City, the journey has taken five years. It has been a labour of love for my producer and I. We have assembled more than enough footage to tell this story. Now we are ready for the final push to complete it. With your support, we want to bring it to the world in 2020—the 75th anniversary of the firebombing, and while the world's eyes are on Tokyo for the Olympics.​ ​
A documentary film is no substitute for government action, but storytelling is one way to pass truth from one generation to the next. These stories have been entrusted to me as a filmmaker. But in fact, to all of us. Please help me in passing them on.​ ​
The Team
DIRECTOR     ADRIAN FRANCIS
Originally from Australia, Adrian has lived and worked in Tokyo for 15 years. He majored in documentary film at the Victorian College of the Arts, Melbourne. With producer Melanie Brunt, Adrian directed the award-winning documentary short, Lessons from the Night, about an immigrant cleaning lady, which premiered at the Sundance Film Festival. Adrian was invited to participate in the Berlinale Talents at the Berlin Film Festival, where he began developing the project that would become Paper City—his first feature-length film.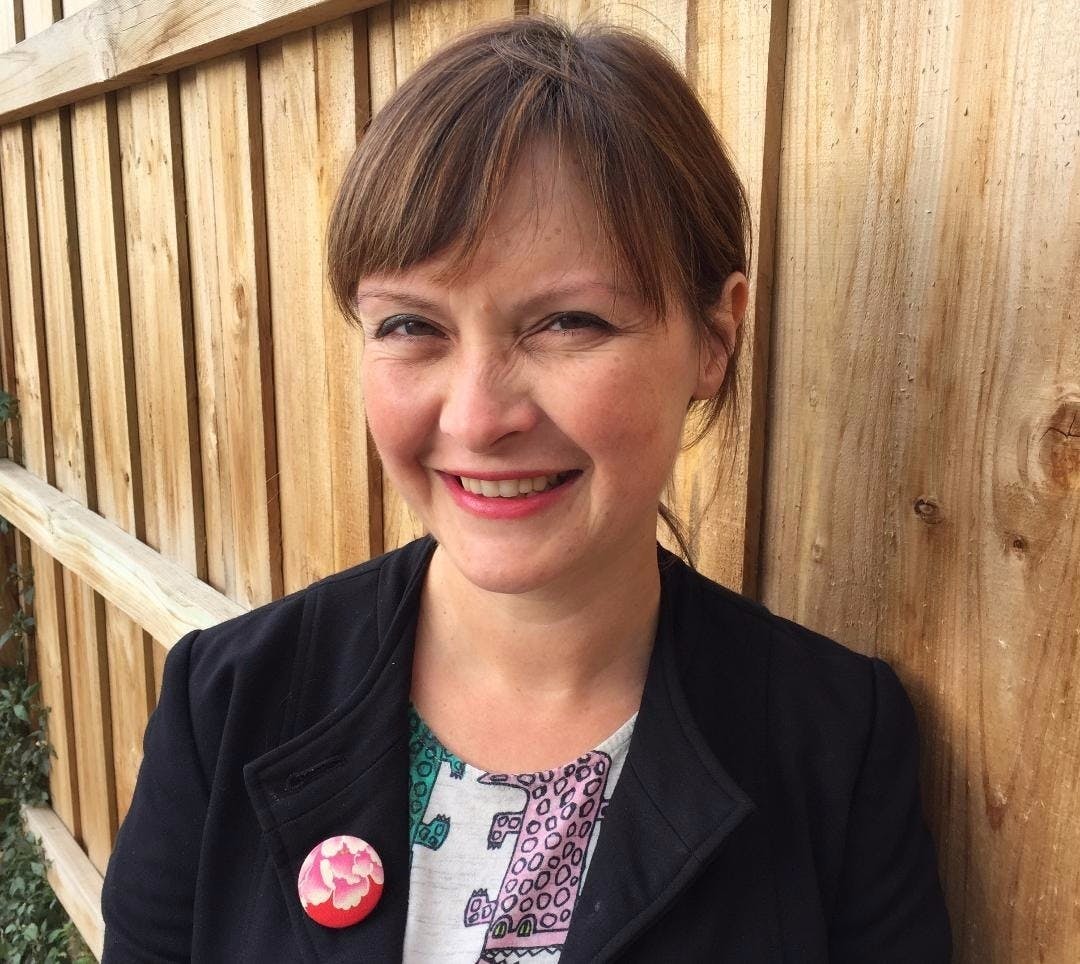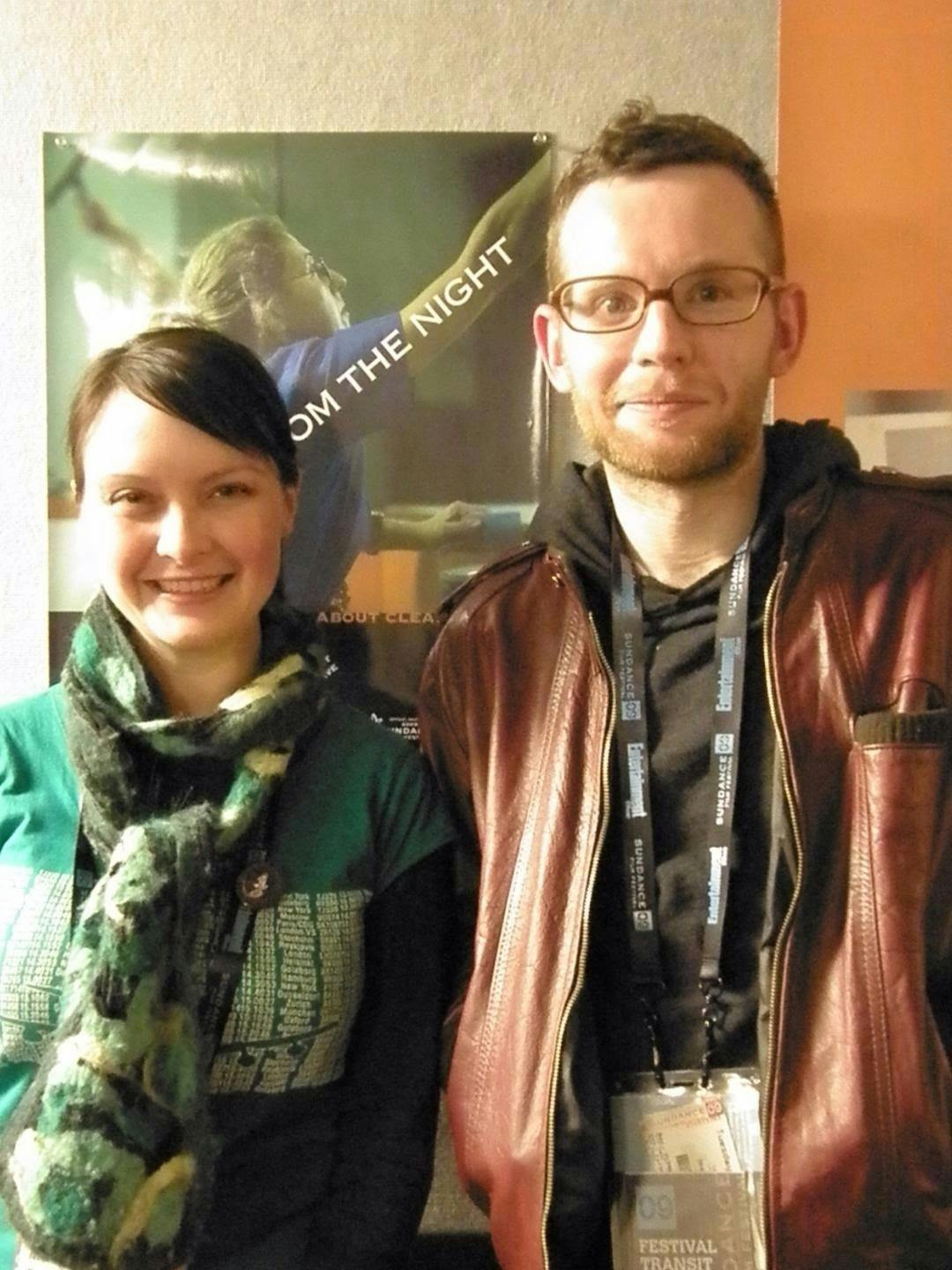 PRODUCER     MELANIE BRUNT  
Melanie Brunt is a multi-award winning producer of thoughtful, character-driven short films across fiction, animation and documentary categories through her Melbourne-based company Feather Films. Her films have won 50+ awards and screened at 150+ festivals, including Sundance, Tribeca, Karlovy Vary, Edinburgh, Palm Springs Int'l ShortFest and AFI Docs. She was a producer on the web-series Wrong Kind Of Black which was nominated for an  International Emmy in 2019.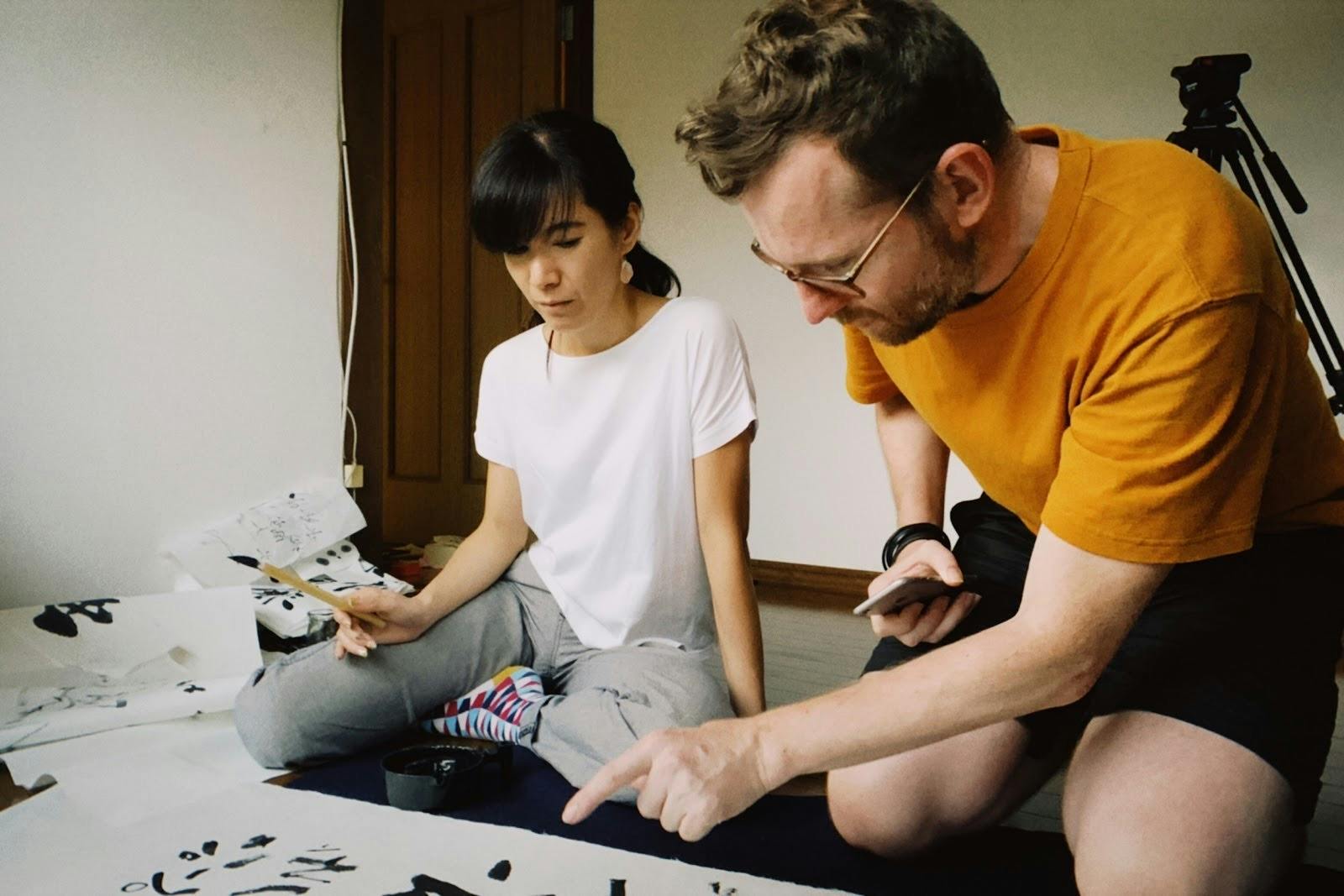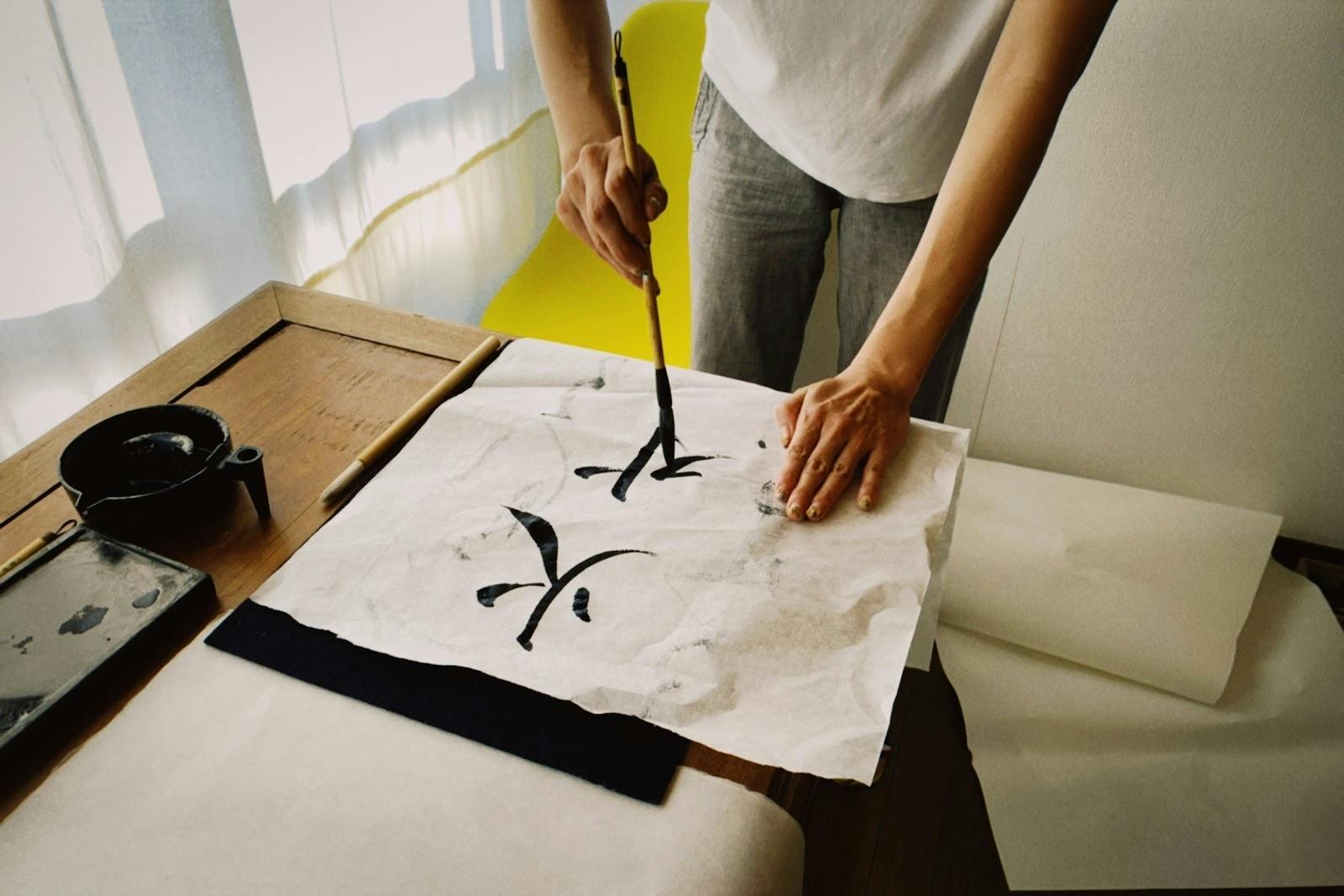 CALLIGRAPHER     HIROMI EDO
Hiromi has been studying traditional Japanese calligraphy and abstract writing for over 20 years, and her work has been exhibited in Japan and Spain. She teaches and produces work from her home studio in Kamakura. Paper City is her first collaboration with filmmakers, and an opportunity for her to learn more deeply about the Tokyo firebombing.
​